2018 Quilter takes first place in "Florida's Finest" show at Art Center Sarasota
Sarasota Herald Tribune, artist interview, May 25th, 2018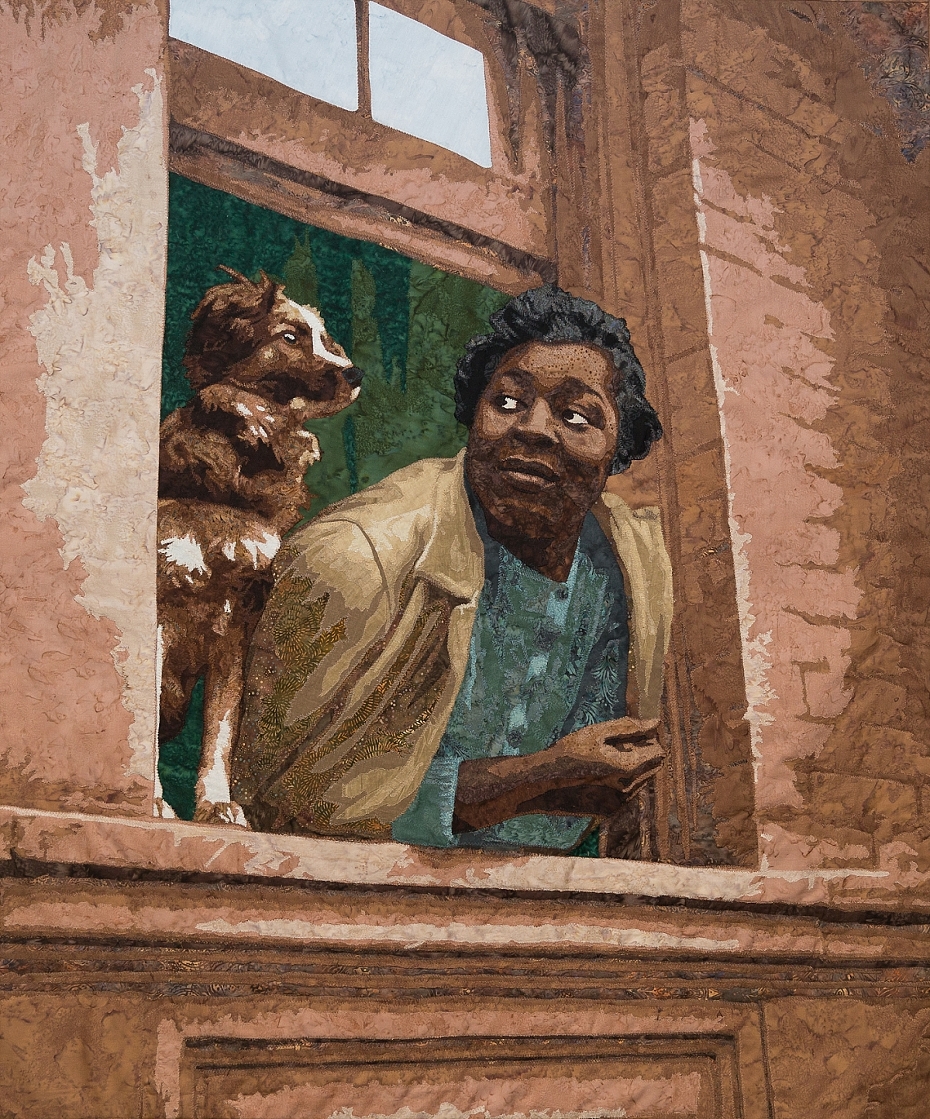 Quilter takes first place in 'Florida's Finest' show at Art Center Sarasota
Maggie Dillon's art quilts use layers of batik fabric and visible stitching to create a painterly effect. [Courtesy photo / Maggie Dillon]
'Anticipation' was based on a 1943 Gordon Parks photo called 'Woman in Window with Dog.'
Maggie Dillon starts with an image — a vintage photograph, usually — before recreating it as a piece of textile art.
Her quilts go far beyond traditional geometric designs. They feature layers of batik prints and visible stitching that create a more painterly effect. Photorealism in fabric. Her subdued colors and deep shadows bring out characters and draw in viewers who often step forward to marvel at her technique.
"I love doing people, because it's a challenge," she says. "I'm very active on social media, so I like to post my work as it comes to life."
Dillon, 30, is a Sarasota native who earned a fine arts degree from Flagler College in St. Augustine. Only after returning to the Gulf Coast did she begin experimenting with art quilts.
"I had no idea this existed, so I did my own by trial and error," she says. "I think it's fun to try and figure things out."
Dillon seeks out historical photos at Shorpy.com, which gives her permission to reproduce images in another medium.
When she found "Woman in Window with Dog," a 1943 photo by Gordon Parks, she recreated the scene in a quilt and called it "Anticipation."
"It's like a still from a movie," she says. "I like to imagine that she's waiting for her lover, or there's a parade, or some big event."
Fifteen layers of fabric went into the design, which took 190 hours of quilting to complete.
Dillon's work paid off when "Anticipation" won the $1,500 first prize in the "Florida's Finest" show on display at Art Center Sarasota.
Joe Fig, head of the fine arts department at Ringling College, judged the competition. Dillon's quilt caught his eye in a gallery. Then he moved closer.
"Look at this," Fig said, admiring the fabric and stitching. "I'm attracted to craft and detail, but this is — I don't even know how you do this. I couldn't do that."
Guilty art show judging
For "Florida's Finest," more than 100 pieces are on display through July 6 in four galleries of Art Center Sarasota.
Paintings include "Florida" by Joseph Melancon of Sarasota and "The Chalk Artist" by Kathy Simon-McDonald of Bradenton.
There is also a cardboard figure called "Fu Dog," by Allison Lehti of Sarasota. The artist used cardboard, pieces of foam and jewelry to create a mythical Chinese figure.
"This struck me," Fig said. "Just sculpturally, the scale is great, and it's got good movement and depth. And the use of simple materials and all the layering."
He struggles with the idea of passing judgment on his fellow artists. It makes him feel guilty.
"Like an assassin," he says.
At the same time, Fig encourages artists to enter competitions, get feedback and remain active in a community of their peers.
"There's a lot of good work here," he said. "That makes my job easier."
'Hands like pincushions'
Dillon grew up in Sarasota, graduated from Riverview High School in 2006 and went on to Flagler College.
She's always been an artist, but art doesn't always pay her bills. For several years, she's worked the front desk at a hotel on Siesta Beach.
Dillon has had commissions of family portraits and sales of all sorts of pieces. In September, she's going to have a show of her work at the Unitarian Universalist Church on Fruitville Road.
She does her artwork early in the morning, late in the evening, and on weekends. She spends hours at her dining table, using pins to put thin strips of fabric in place.
"My hands are like pincushions," she jokes.
Dillon started out using bright colors in her designs, but soon moved to more subtle shades of mottled batik fabric. Slivers of black offer bold shadows and emphasis. Another shade comes with colored thread and what are called tricot stitches.
She uses a simple sewing machine to slowly stitch her delicate designs.
Dillon's pieces are quilts — literally, twin layers of fabric with batting in between — but she prefers to be called a textile artist.
"Even if you call it an art quilt, people still think of grandma's quilt," she says. "It's hard for people to describe without seeing it.
http://www.heraldtribune.com/entertainmentlife/20180525/quilter-takes-first-place-in-floridas-finest-show-at-art-center-sarasota