2018 Ringling Underground INVITATIONAL
March 1st, 2018
Ringling Museum of Art, Sarasota, FL
Illumination of Grace, Choices, N'awlins Heritage, Responsible Women, Summer of 1937, On the Edge of Darkness, Sophia, Vintage Romance
#RinglingUnderground A series of one night only events combining live music and experiential artworks in the Courtyard.
+MUSIC: Millionyoung, DieAlps!, and Eduardo Correa
+ART: Maggie Dillon, Elizabeth Goodwill, and Javo Rodriguez
____________________ +ART__________________________
Art in the Courtyard at Ringling Underground:
The Ringling and Danielle Dygert presents:
ART/CRAFT AND OUR PAST: a Ringling Museum Courtyard exhibition of three regional artists who call upon their pasts to more easily examine contemporary culture. Whether it is a fond memory of exploration or a picturesque moment of days gone by, these artists connect with the innocence of their audience, building a relationship wrapped in history.
Maggie Dillon // Influenced by the nostalgia of old film, Maggie Dillon Designs captures candid moments from the 1930's to the 1950's in her fabric works. Choosing images that appear photo-journalistic, like Responsible Women, Dillon creates a dialog that highlights cultural and social shifts of the mid-20th century as America grew out of the Great Depression. Maggie's work celebrates an unawareness of the camera in contrast to contemporary selfie culture, creating a more honest and intimate acceptance of portraiture that is simultaneously ordinary and meaningful.
Based in Sarasota, Maggie regularly participates in exhibitions, trunk shows as well as teaches workshops. Her keen ability to combine textures and patterns allows the viewer to experience not only the history and imagery, but also Dillon's craft.
www.maggiedillondesigns.com/ www.facebook.com/MaggieDillonDesigns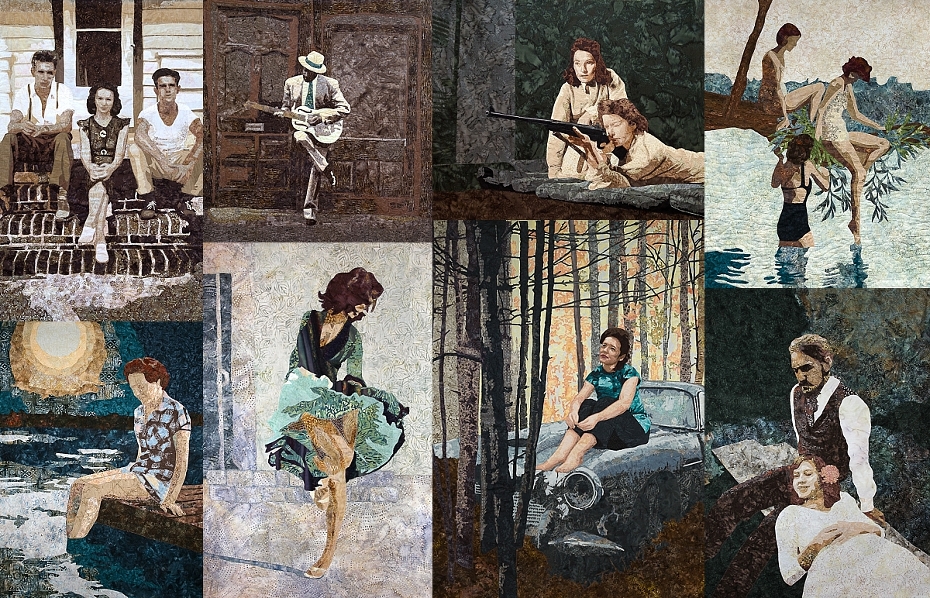 Elizabeth Goodwill // Playful, bright, natural and bound Elizabeth Goodwill's masks offer insights into the whimsical playgrounds of her childhood. A young traveler, Goodwill and her sister explored open woods, national parks, and libraries which heavily influence her expressions and forms. Maintaining the "empty vessel" quality of books, her masks conceal and reveal. "Many times I will put aside a form for a while and let it sit while I turn to other projects, while my unconscious mind ponders. […]The end result is an object of beauty and the journey getting there is my art." Goodwill crafts allusions of childhood, invoking her own history to craft forms that both reflect and describe.
Currently the Education Director at Art Center Sarasota, Goodwill continues to inform and inspire others to experience new media and crafts.cleverbookmousestudio.com
Javo Rodriguez // Javo Rodriguez displays seductive yet obscure images that evoke his youth layered with notions of the current crisis in Puerto Rico. Javo finds inspiration from his own family photos, images from national magazines and news articles. Heavily involved in raising efforts to help Puerto Ricans in need from his hometown, has significantly influenced the application of paint and mixed media in Javo's new works. A loose descriptive style illustrates the dialogue that Javo has with the work in his studio as he confronts the past and present.
Currently Living in Sarasota, Javo finds this new work to be most representative of his voice. www.iamjavo.com www.facebook.com/ArtistJavo
The artists presented in ART/CRAFT AND OUR PAST illustrate moments of our collective past, as a means to better understand contemporary cultural and social issues. This work is a prime example of the history of an individual becoming a discussion of the collective.